A good host makes a good show. And at the same time, your host doesn't have to be the next Oprah Winfrey to make a show work. 
But before diving into production, you are going to want to identify who will host and plan some details around their approach, such as tone and style. 
Contentz recommends that organizations make sure that they can replicate host talents enough to produce a quality, recurring show that helps you reach your objectives. A worse case scenario would be producing a show and then the host leaves. If this is not planned for, then it would kill the show and likely waste lots of resources that have been invested to that point.
Plan your hosting approach to where the show can go on whether the host is available or not. This takes understanding your approach to the guests and how to engage them.

Types of Hosts
There are three types of hosts that lead shows from the audience perspective.  It is important that you choose your host style prior to getting too far in production.
Interviewer
An interviewer style host will guide a show with question asking.  They can deliver facts in an opening and closing segment, but they are not relied on for opinion in any way. They prepare a list of questions and tend to be warm enough to get the guest comfortable and to help them start talking but they rarely conflict with a guest. They are a facilitator.
You can find interviewer style hosts online, in your office and at Contentz. The good part about planning your show with an interviewer style host is that you can easily replicate the show, whether they are involved or not. The downside of this host style is that they are not a subject matter expert in the topics that are explored on a show. For example, medical companies often want a subject matter expert to interact with doctors about medical procedures.
Notes on Interview Hosts
Script consists of questions

Style is warm and friendly – keeps the conversation going

Research for these hosts can be easier because it is all new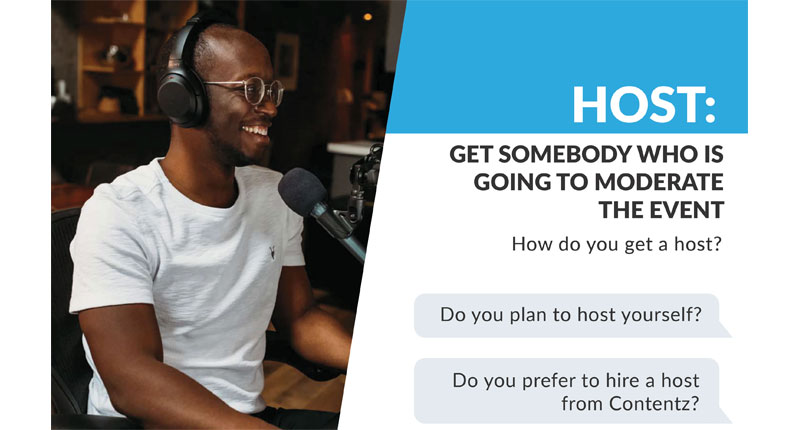 Scripted
Some shows are planned with an entirely scripted host. This can be an extremely engaging method of hosting; however, it is also very expensive to produce. This host style is very useful for story telling. It also allows for some acting and more relevant sound effects that can also create engagement.
In the case of scripted podcasts, the actual host feels more like a narrator.
A fantastic example of a scripted podcast host is the Business Wars Podcast, where they explore the back stories about how different companies were in competition and even highlight individuals.  Business Wars explores rivalries such as Coke and Pepsi, Blockbuster and Netflix and more.  Their objective is to grow its audience in order to sell advertising.
Notes on Scripted Host
Pre-written dialog

Requires substantial editing

Can be highly engaging with good writing
Big Personality / Subject Matter Expert
The third host type is categorized as a subject matter expert but you can also think about it like the 'Big Personality' host type. This host tends to be very memorable and it is difficult to script or imitate this style.  Think of this host as talent.  Not every organization that wants to launch a media show will have access to this type of talent.
Big personality or subject matter expert types of hosts generally need to be willing to put their opinions out before the guests.  Sometimes this can be awkward between host and guest. In that way, it is important to understand this is a place for conflict. Rush Limbaugh and Sean Hannity of Fox News are great examples of hosts that have big personalities and have created massive followings by putting their personality out on display.
If you are trying to replicate this style, you will need access to somebody who can consistently put their ideas out and defend them. There is a natural conflict in that approach and it makes for great content, but it is also important to understand the formula before diving into this approach. 
Subject matter experts can achieve an engaging show without conflict. Jason Walter hosts a real estate market show in Sacramento that does this very well. The host talks through market data and provides high quality analysis. The upside to this approach is that you can definitely position yourself as an expert if you know facts about a valuable topic. The downside is that data and being right can be boring to watch. Be careful about approaching the subject matter expert style without considering these points.
Notes on Big Personality / Subject Matter Experts
Requires consistent talent

Requires consistent points of view

Must be prepared for conflicting points of view from guest

Can have huge upside if you can replicate
Next Steps
Work with your team to decide which hosting approach will work best to achieve your objectives. Analyze your strengths and weaknesses within your team.  What is the best approach to create a replicable, consistent show that drives results for you?