Customer relationship management software, commonly referred to as CRM software, helps small businesses save thousands through optimized workflow processes.
Customer relationship management software helps streamline workflow and reduce man hours to save companies thousands.
If you don't know what CRM stands for…
CRM stands for customer relationship management, and it's an integral part of every business. It refers to all practices, strategies and technologies used for customer interaction. This includes all channels of how a company interacts with its customers, such as social media, email blasts, phone calls, e-chats, etc. It also refers to how companies use the data gathered through customer interaction to improve their customer relationships. This takes into account all practices that affect consumer retention, customer-facing interaction and closing sales. The main goal is to drive sales through the use of good CRM practices.
There's software to help
Customer relationship management software helps customers put these practices to work through an automated system. This reduces man-hours and leads to better return on investment (ROI).
IT automation
IT automation allows business owners to streamline customer communication tasks by sending automatic alerts, calendar updates and more. The goal of the software is to increase ROI by setting these systems in place and letting the machine handle the tedious task of sending replies to incoming messages. It can also ensure that sales leads are getting messages immediately, as opposed to waiting for someone to log on and send the message manually.
IT automation is not, however, a smart system. Computers will make errors humans would not have made. These errors are less of a problem than human errors though. Computer errors are easy to track and fix.
Have patience and take the time
It's trial and error as you troubleshoot possible malfunctions with the automated software. You want to make sure messages and alerts are pinging customers at the right moments. If they are firing off to incorrect keywords it can cause confusion or email repetition that will lead a potential customer to unsubscribe.
IT automation decreases man-hours but you may have to streamline processes and remove potential errors first. This results in a hefty ROI. This is especially true if your automation increased customer acquisition percentages. Those upfront hours to get the systems up and running will pay off when you are not manually sending email alerts to several thousand customers.
The end goal is to streamline your workflow and create a seamless process for customer interaction and ongoing communications. There is also a chance to learn and grow your business from the customer relationship management software's tracking capabilities (but more on that later).
Use automation to its fullest potential
Customer relationship management software is useful for data entry and other menial tasks. By taking advantage of every type of automation your customer relationship management software allows, you cut down on employee time spent on tasks easily left to an automation system. It also cuts down on human error. While customer relationship management software isn't perfect, it completes repetitive tasks without fail. If there is a breakdown in the software somewhere, the system will make the same mistake again and again. The sporadic mistakes humans make are harder to identify and correct.
How customer relationship management software helps with sales
Use social media, email and other channels in customer relationship management software to manage marketing messages. The ultimate goal is to turn a sales lead into a customer. By sending automated marketing messages to sales leads in an organized fashion, one click can turn into profit. These messages are scheduled to shoot off to new leads the moment they enter the system. This means they get your message while your company is still on their mind.
As another bonus, automated IT systems can send messages to large groups of contacts in seconds. Even if only one in every twenty people contacted make a purchase, the ROI is still high because less hours have been invested.
Customer relationship management software allows for tracking
Anytime you can track your business there is a learning opportunity worth taking.
Customer relationship management software systems come with tracking capabilities for all customer interactions. This helps to limit repeat efforts, something a sales lead may not like. Initial contact as well as follow up is tracked through sales force automation. This also creates a paper trail (in the metaphorical sense) of interaction with each customer so messages can be targeted, information gathered and sales attempts focused.
Tracking is also a great way to learn about productivity
CRMs provide managers with information to help them adjust marketing campaigns for better ROI. The customer relationship management software tracks the percentage of sent emails that are opened and which links within the message are clicked. It gives insight into the effectiveness of a specific message and can be especially valuable in managing content.
For example, if one email message out performs the average by two to three times, you can duplicate that success by looking at the successful message and analyzing why it worked.
Without customer relationship management software systems that allow for data tracking, staff would have no way of knowing whether or not a person opened the email message, or simply deleted it based on subject line alone.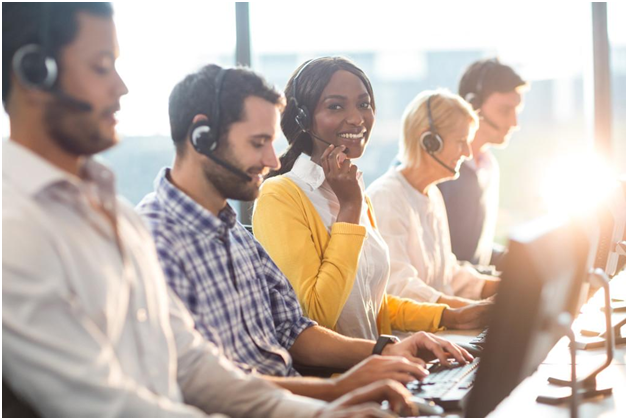 CRM management includes several points of contact, including customer call centers.
Contact centers
Think about the last time you called into a credit card customer service line. Before you reach the numerical options part of the menu, basic company information is supplied. That's because this information answers several caller's questions and there is no need to proceed. This is a type of contact center automation. The goal is to give information that could satisfy a person's request without requiring a transfer to the operator.
You'll notice many phone systems use an automated message at the beginning of a call to satisfy frequently asked questions. This includes providing details about the company's addresses and contact phone numbers. It also often gives options for making an automatic payment. If the information satisfies five percent of people, the company has successfully cut down on its need for customer service representatives. If less calls need to be transferred to a rep, then less reps need to be staffed and less overall hours worked. This results in a lot of savings for the company.
And there are more options, too
Online e-chats where customers can ask sales reps questions are another contact center format. Basic questions are addressed in an online FAQ. This cuts down on the need for customer service reps.
These online self service options are great for business because they help customers help themselves, but they have to work. Make sure you are tracking how well self-service works on your website. If customers get lost trying to answer their questions online and make a call to customer service nine times out of ten anyways, then you are driving customer frustration (which is not good for business) and not cutting down on the company's customer contact needs.
There's plenty to choose from
There is plenty of software to choose from. This is both good and bad for business owners looking to automated systems to manage and track customer interactions. It's good because you have more than one option and you can pick the software that works best for your company. It's bad because choosing which software fits your company best takes work.
Start by asking yourself what you need from a customer relationship management software program. If the goal is to track productivity, choose one with reliable data gathering capabilities and easy-to-decipher graphs that give insight to customer experience. Even a simple software can send automated email messages to newly acquired customers.
Don't pay for a premium customer relationship management software package if you'll only utilize the most basic components of the software. Instead of searching for the highest-rated or most expensive product, start with your needs first. Use that information to find software that performs best in the areas you need it to.
Customer relationship management software is pointless if your team doesn't know how to use it, so spend time on training. This cost will pay off in the end. Remember, CRMs are about increasing ROI in the long-term, even if they cost a little extra upfront.